I have recently just got back from Japan, so that means there are a lot of T-shirts from my recent haul. This Misaki Akeno (岬明乃) T-shirt from the series High School Fleet (ハイスクール・フリート), or Haifuri (はいふり), is one of my main targets to raid.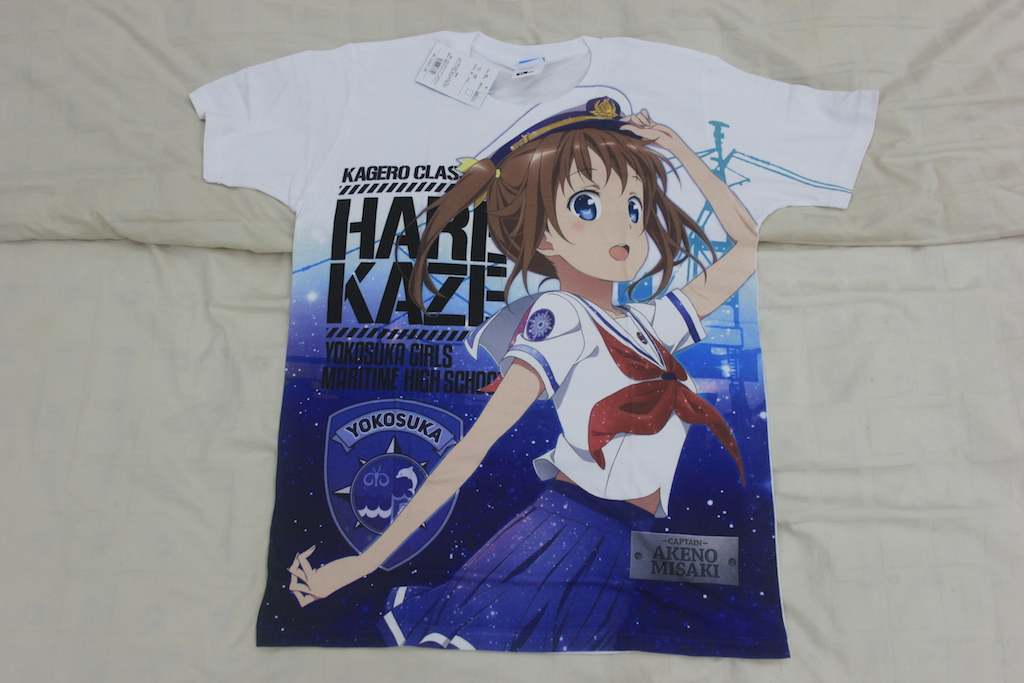 Because of my love to those Kantai Collection/KanColle (艦隊これくしょん~艦これ~) T-shirts, I am always open to other ship-themed T-shirts and this is one good example. Like those Kancolle counterparts, the design of this shirt is very nice. I really like the elements that Cospa added to the shirt, such as the emblem, the text, and the ship silhouette so that it has a full illustration. Also, the blue colours are also very soothing, which is also why I fell in love even after Cospa announced this T-shirt on their site.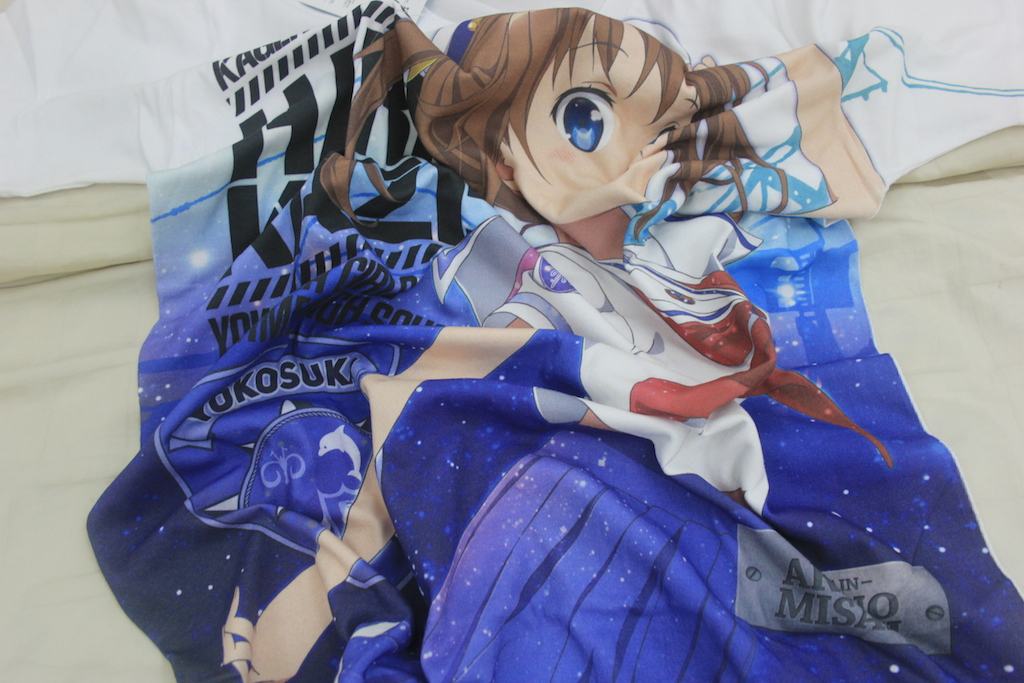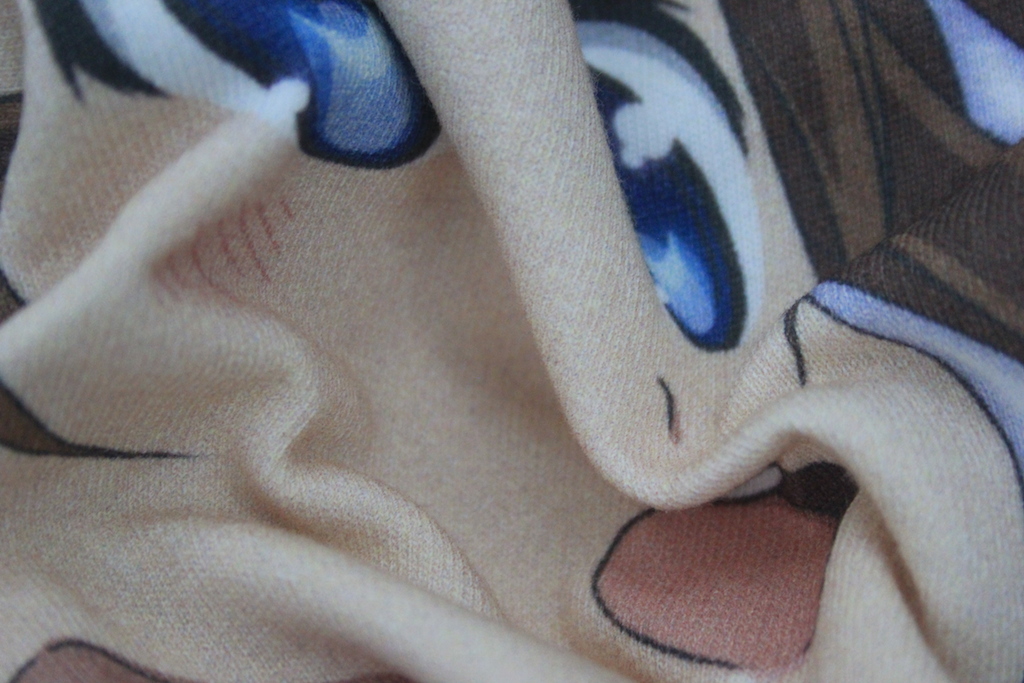 Close up of the distorted printing, showing that the printing quality is absolutely terrific. The resolution is very sharp, and the printing was done by using a DTG method too. So, for sure the design will not crack. However, the printing utilises a lot of dark inks – blue, black, brown – so always do give extra care when washing this T-shirt. Remember to wash her inside out with cold water and dry it in a dark place away from sunlight. After the initial wash, there are quite a lot of white spots on the fabric because some cotton balls formed during wearing, and took out a little part of the ink. But thanks to the sparkle effects, it does not look so obvious from afar.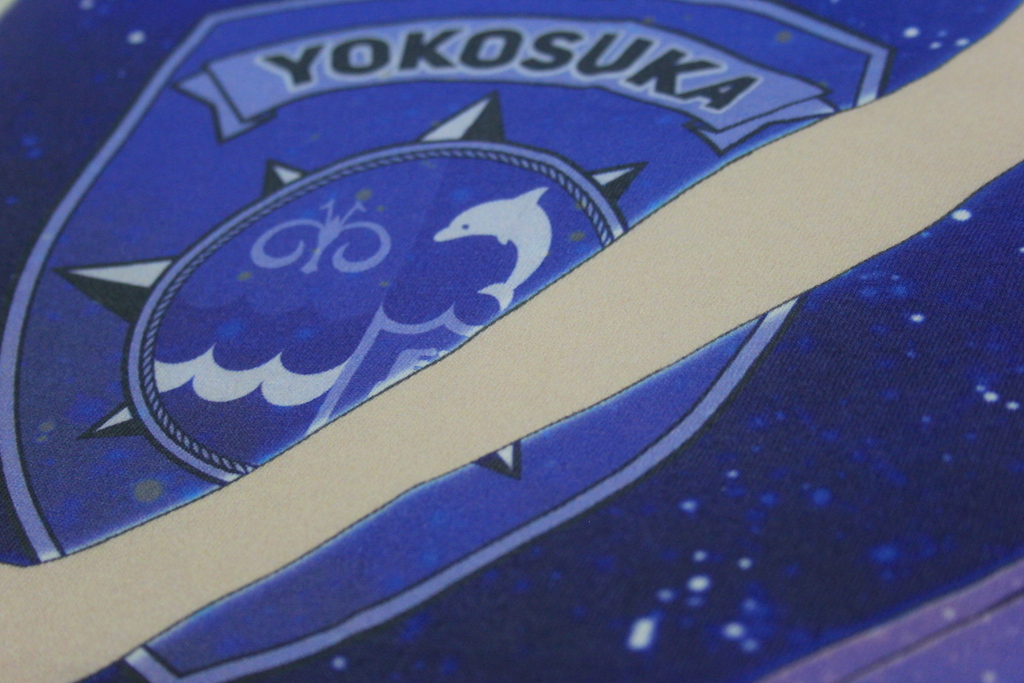 The emblem is one of the cute points of this T-shirt, I have to say. It does not look like it, but it is actually very big when you wear it. Because of the looseness of the T-shirt, the poor emblem is always distorted whenever I wear it. But it adds a really nice touch to the T-shirt, so I accept it. I have to say that this is one of my best buys from Japan and I will cherish this T-shirt.
(T-shirt store page: ハイスクール・フリート 岬明乃フルグラフィックTシャツ)