Sometimes, I wonder how Cospa decides who gets a T-shirt and who does not. Like Kaga or Shigure from Kancolle, for example, two characters that I like I thought are popular still does not have a T-shirt made and this girl already has a two full graphic T-shirts and a full colour T-shirt (edit: now, as per October, she has three full graphic T-shirts). Well, I am not saying that she is a bad character, but, she has too many. In fact, actually, I think all her full graphic T-shirts look very nice and cute. Anyways, this T-shirt is from the series Saenai Hiroin no Sodatekata (冴えない彼女の育てかた) or also known as Saekano (冴えカノ) with the character Megumi Kato (加藤 恵).
The design resembles more of a full colour T-shirt rather than a full graphic T-shirt in my opinion. Most of the shirt body is still white without any gradients and/or decorations. But despite that, I like the design. The text is nicely placed and I really like the green balloon box. The bottom part of the design is also very nice, making it look like it came out off a printer, with all the colour codes and white box labels. It is a really nice design, but I just wish it is either a 100% full colour T-shirt or that there are more colours involved in the shirt body.
Obligatory distortion pictures just to show the quality of the printing. The design is directly printed to the fabric, so the resulting print is very soft and smooth, making the T-shirt very comfortable to wear. However, the resolution was not as sharp as the other T-shirts, as it can be seen above. Despite that, the printing will not crack but it may fade after several washes, so do give extra care when washing this T-shirt. Always wash it inside out with cold water and dry it in a place away from sunlight.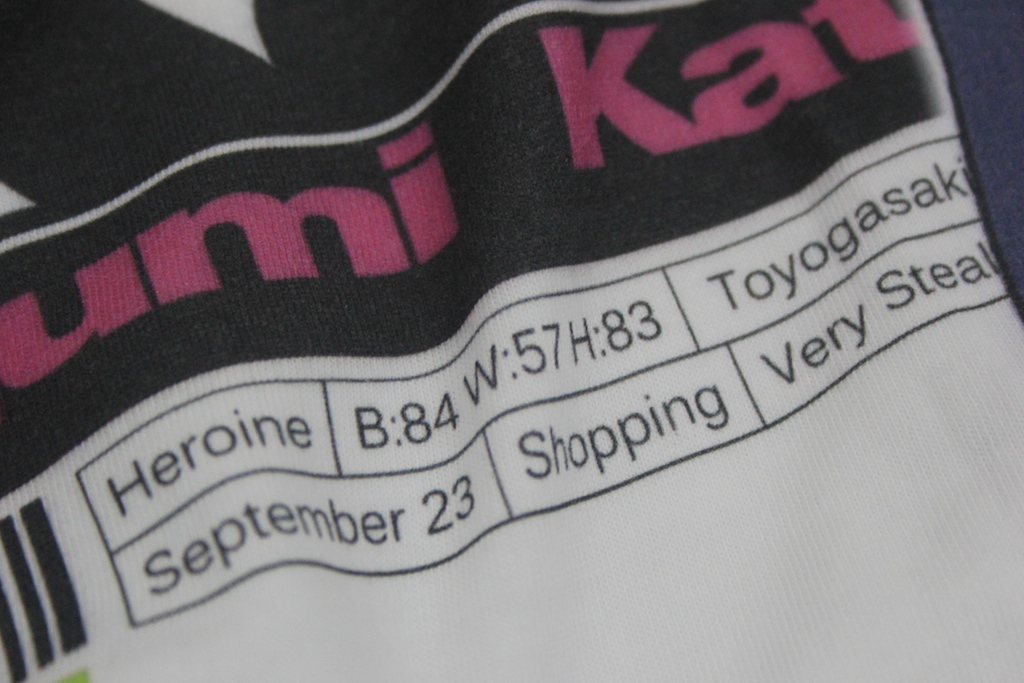 Some part of the details on the bottom part of the shirt. This is the thing that looks like a box label, which I think Cospa did a great job in designing this. Although, I do not understand what does "Very Steal" means. Nevertheless, overall this T-shirt is really nice to have and I would take real good care of it. Perhaps I will get the other two full graphic T-shirts as well.
(T-shirt store page: 冴えない彼女の育てかた 加藤恵フルグラフィックTシャツ)