This is another 3XL T-shirt, released from the same company (AMUSE CRAFT) but features a different series. Unlike the previous one, this one we can buy from the webshop and when I bought it there was a massive discount (around 70%) so I am very lucky I must say.
The front design features the characters from Tokeijikake no Ley-Line -Asagiri no Chiru Hana- (時計仕掛けのレイライン -朝霧に散る花-), or also known as A Clockwork Ley-Line. Top left, there are Fuhito Tsuzuraorizaka (九折坂 二人) and Momoka Shougoin (聖護院 百花). Below them, on the left is Adelheid Ritter von Weinberger (アーデルハイト・リッター・フォン・ヴァインベルガー) and on the right, Neko Furoyamachi (風呂屋町 眠子). Then, on the left side there are Michiru Koga (久我 満琉) and Tsubaki Mibu (壬生 鍔姫); on the right side, Angel (アンデル); and the big one on the middle is Ushio Shishigatani (鹿ケ谷 憂緒).
On the back, there are even more characters, perhaps the entire cast. Such as the guy on the top right, Michiru Koga (久我 満琉); the girl below him, Kasumi Murakumo (村雲 春霞); Shizuka Murakumo (村雲 静春) and the guy beside her; or the silver-haired guy on the left side of the shirt, Ulrick Ritter von Weinberger (アーリック・リッター・フォン・ヴァインベルガー); the two little girls on the bottom left, Kumiko Iba (射場 久美子) and Hina Shichiban (七番 雛); the silver-haired girl on the bottom, Rito (リト); the guy on the right side, Ludwig Ritter von Weinberger (ルートヴィヒ・リッター・フォン・ヴァインベルガー); the girl besides him, Mutsuki Hanatate (花立 睦月); and the two little girls on the bottom right, Maya Kurodani (黒谷 真弥) and Soara Yoshida (吉田 そあら). Honestly speaking, I am not familiar with all these visual novel characters because I have never touched them, but I bought the T-shirt because of the really great design that they have.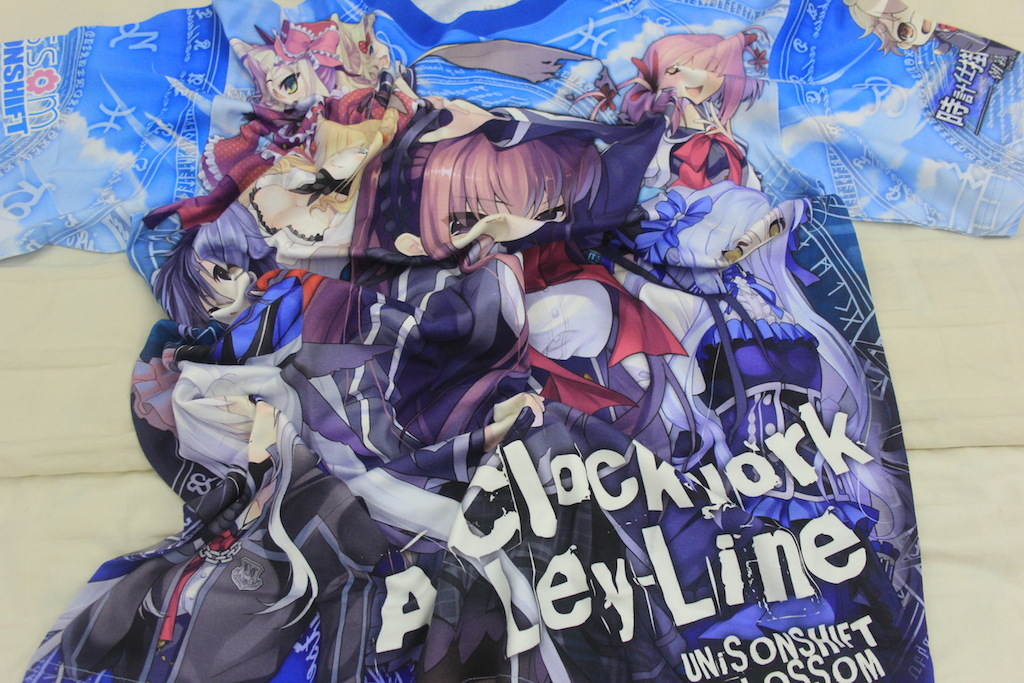 Like the other 3XL T-shirt, this is a really high quality T-shirt. It uses a different type of cotton compared to those of Cospa, but the resulting print is still very sharp and clear. Also, because the T-shirt features a bunchload of characters, it is an instant like for me. However, due to the bagginess of the T-shirt, whenever I wear this T-shirt, most of the characters look destroyed.
While they may look destroyed, it proved a point that the printing is of high quality. The design is directly printed to the fabric, making the resulting print very soft and flexible. Also, because of the cotton material, it is more durable to fading. However, like any other shirts, it is still better to give them extra care so that they will not degrade so fast. Now I wish I can get more of these, but with different designs, because these T-shirts are very comfortable to wear around at home and for sleep.
(T-shirt store page: 時計仕掛けのレイライン"おっきい"フルカラーTシャツ)