Here are two limited item T-shirt from Tetsudou Musume (鉄道むすめ). The first one has a lot of characters: Shibaguchi Konomi (柴口このみ), Sakurazawa Minano (桜沢みなの), Hashimoto Wakaba (橋本わかば), Jyougasaki Nami (城ヶ崎なみ), Hachinohe Tokie (八戸ときえ), Tateishi Ayame (立石あやめ), Kurihashi Minami (栗橋みなみ), Ootsuki Miina (大月みーな), Kuji Alice (久慈ありす), Mori Minase (杜みなせ), Kinugawa Miyabi (鬼怒川みやび), Yakusa Mizuki (八草みずき), Ikawa Chishiro (井川 ちしろ), Yagisawa Mai (八木沢まい), Iwase Yuuko (岩瀬ゆうこ), Wakura Nanao (和倉ななお), Takano Miyuki (鷹野みゆき), Ishiyama Tomoka (石山ともか), Izumi Koumi (和泉こうみ), Fukuooji Hikaru (福王寺ひかる), Miyamoto Erio (宮本 えりお), Kouzaki Miiko (神前みーこ), and Asakura Chihaya (朝倉ちはや).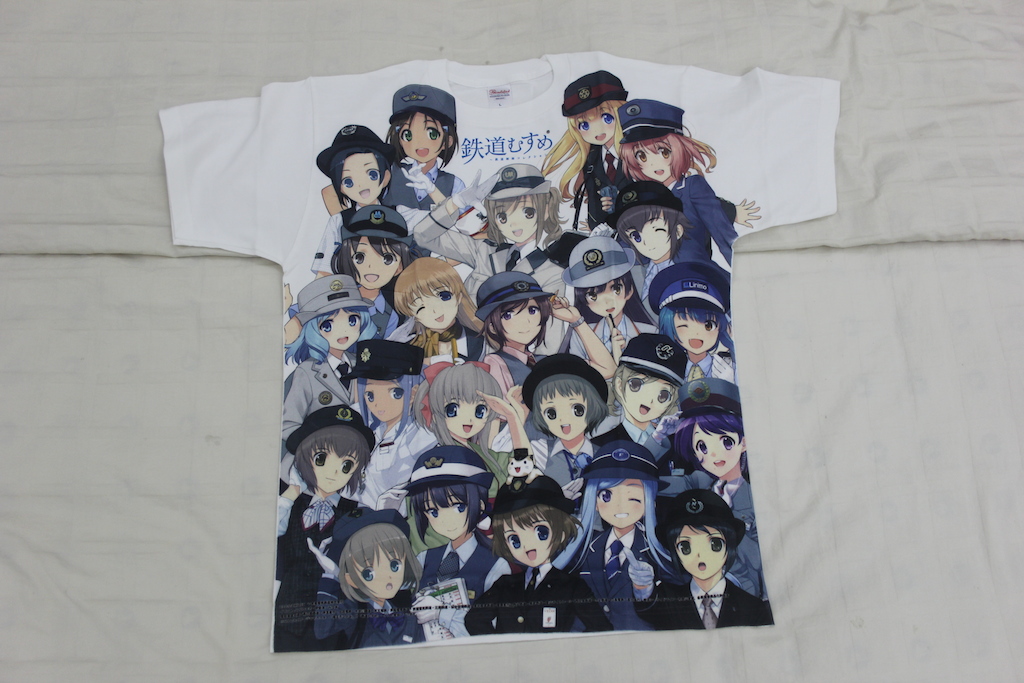 The T-shirt basically features all the characters clumped together. It looked very busy at first glance, but I really liked T-shirts with a lot of characters, so this will do for me. Tomytec and Tetsudou Musume released this T-shirts at Volks, so I am quite lucky to have a friend to buy and get me these two T-shirts.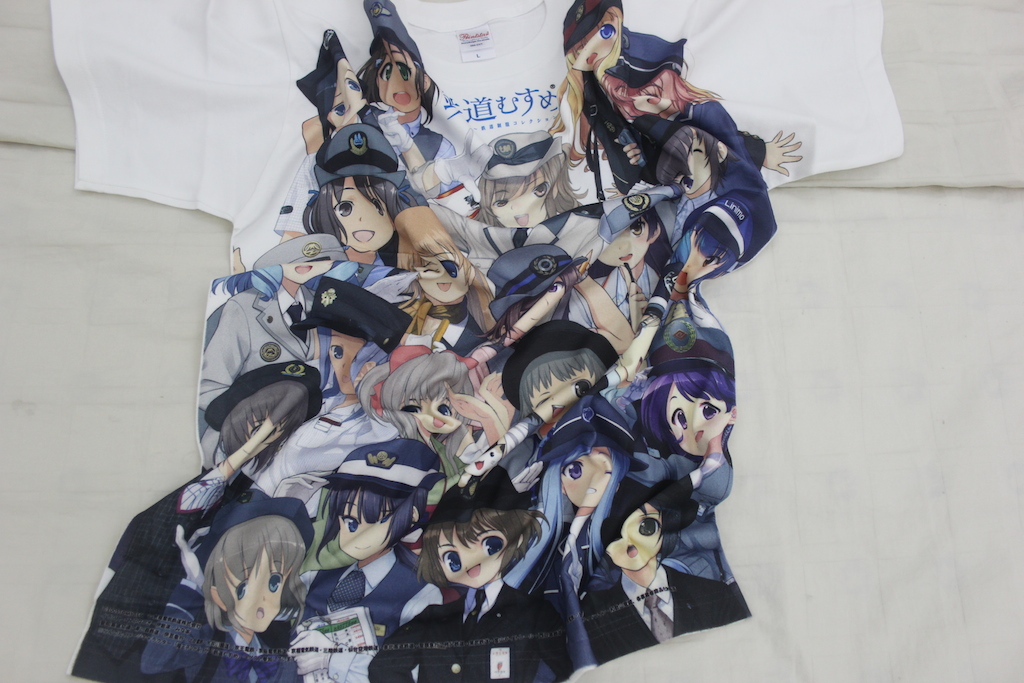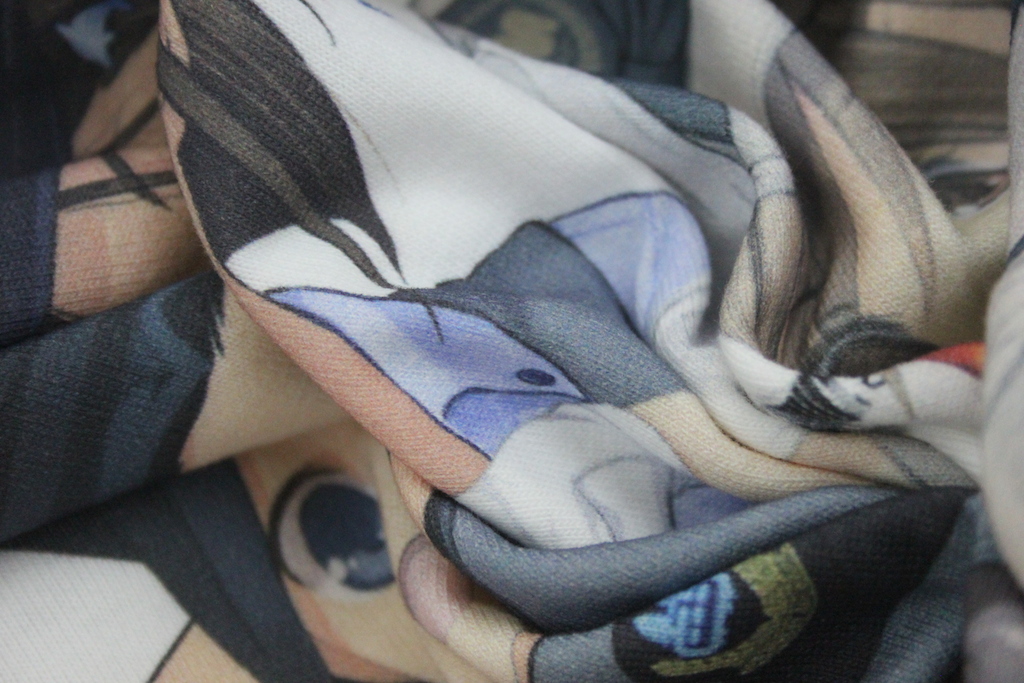 The T-shirt is a full graphic T-shirt, and like any other full graphic tees, the design is directly printed to the cotton fabric. It is very nice since it can show the characters' colours. The resulting print is quite sharp and crisp, and it is very flexible and follows any of the shirt's foldings. However, the base fabric follows COSPA's old fabric, which is quite thick, so it may get a little hot when worn under a hot weather.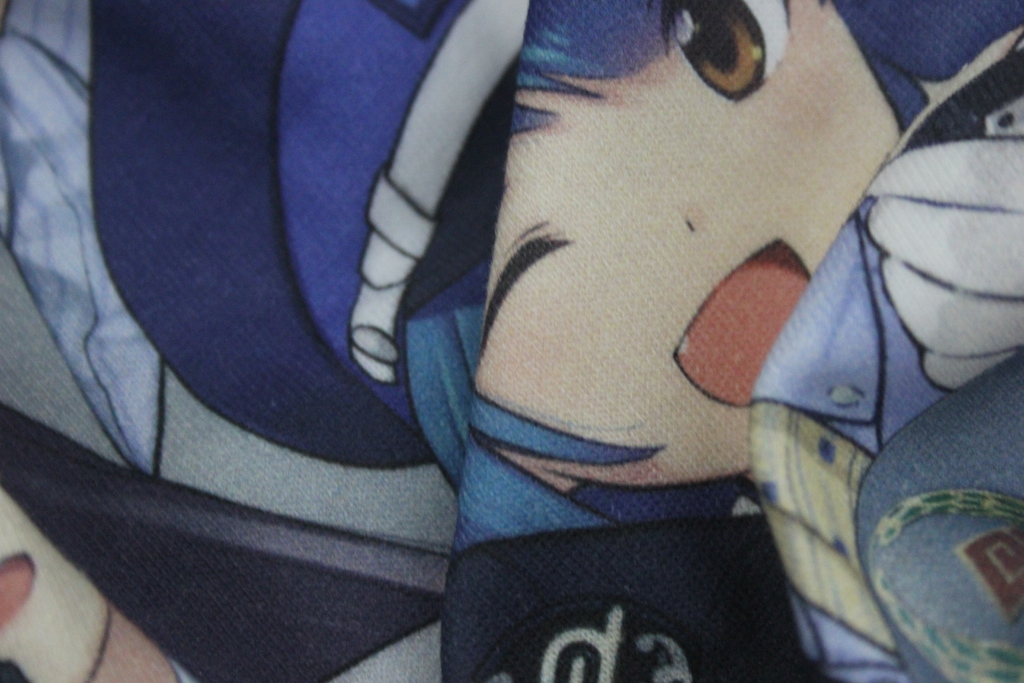 Some details on the character's faces. Actually, the characters are quite big when worn and the printing preserves almost every detail of the character. Next T-shirt is featuring Tateishi Ayame with a map of Japan and all the stamps depending on the characters' representative station.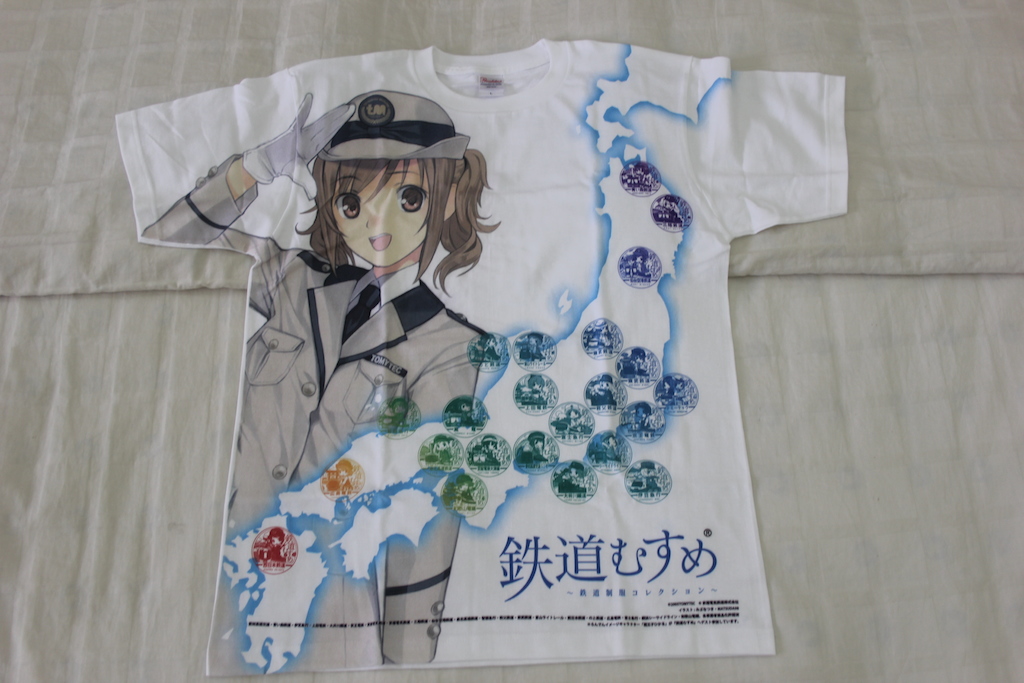 In contrast to the other one, this T-shirt is plainer. The Japanese map looks really nice with the blue glow, and certainly the little stamps of the characters are really cute.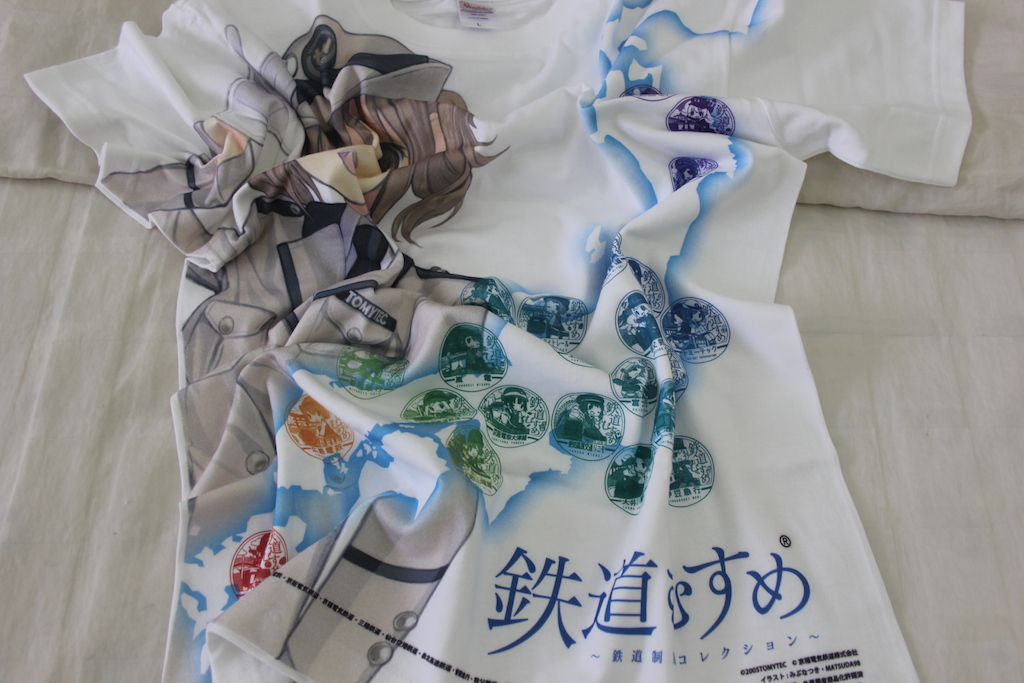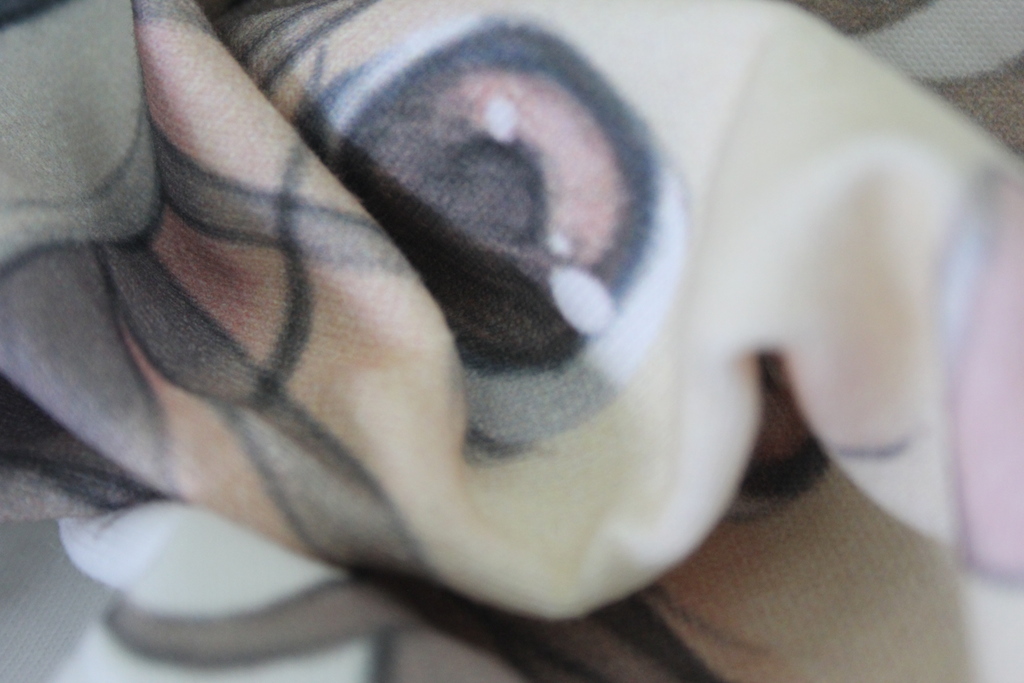 The printing is very similar to the other one, as the design is directly printed to the cotton fabric. Which makes it very soft and nice to wear.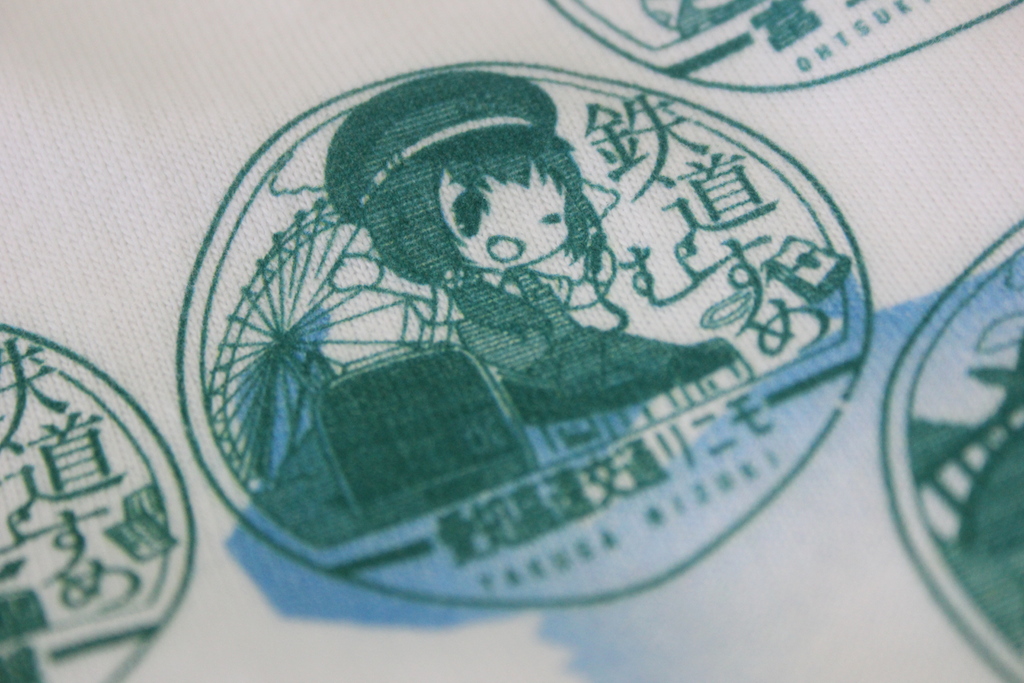 Here are some details of the characters' stamps. This one showing Yakusa Mizuki who represents the Yakusa station. Like the other one, the detail is greatly preserved. Overall, both T-shirts are nice to have and I ordered two for each, just because this is also a limited edition and I might not be able to get it again in the future.
(T-shirt store page (top): 鉄道むすめ フルグラフィックTシャツ 全国巡り2015集合)
(T-shirt store page (bottom): 鉄道むすめ フルグラフィックTシャツ 全国巡り2015地図)