This is one other T-shirt that I have been hunting down in Yahoo! Auctions for quite a long time. So for sure it lands among my all time favourites. The design and colour scheme is very similar to my most favourited Negima T-shirt though. This T-shirt features characters from To Heart 2 (トゥハート2), namely Konomi Yuzuhara (柚原このみ), Tamaki Kousaka (向坂環), Karin Sasamori (笹森花梨), Sango Himeyuri (姫百合珊瑚), Ruri Himeyuri (姫百合瑠璃), Yuma Tonami (十波由真), Lucy Maria Misora (ルーシー・マリア・ミソラ), and Manaka Komaki (小牧愛佳).
To be honest, I was lucky and able to get two pieces of this T-shirt from Yahoo! Auctions in a short time. So I need not worry of overwearing and damaging the first one without having a backup for collection purposes. Both of them are L size, but since this follows the old COSPA sizing, they are big enough. So, that also means the print really fit my tastes.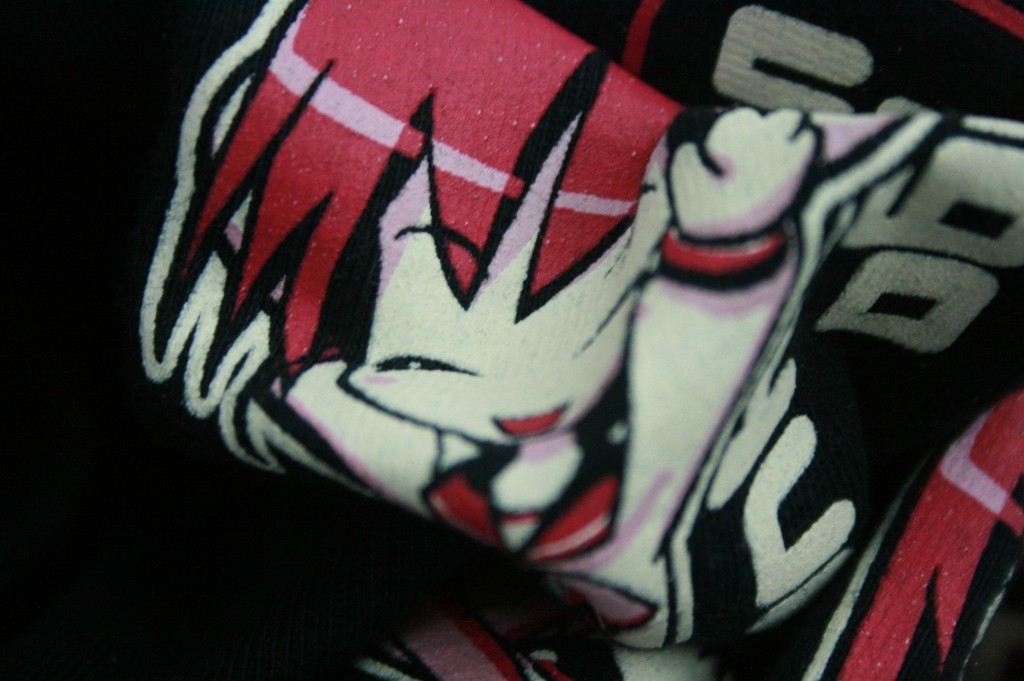 More details on the print. The quality is really good, like other old COSPA T-shirts. It is flexible and durable, quite soft, and is not really disturbing when worn. However, careless ironing can cause smears on the print. Considering the print is small characters, one smear can make the characters look funny, so one needs to be really careful about it. It's a really nice shirt anyway, I would like to get another one in XL to be honest.
(T-shirt store page: ToHeart2 ヒロイン Tシャツ)