Posting on 20/12/2012 20:12!
This is one T-shirt that I have been hunting for a long time and finally get it. It features Kana Iriya (伊里野加奈) from Iriya no Sora, UFO no Natsu (イリヤの空、UFOの夏). I didn't watch the anime, but I liked the character /particularly the art/ since I was in middle school.
The shirt itself was sold by COSPA a long time ago. So of course I didn't get a chance to get it while it was in stock. Yahoo! Auctions helped me again on this one, although I have to check the site back and forth everyday for 3-4 years. The design is really nice. I like the KEEP OUT signs throughout the shirt and the colours look really nice in my opinion.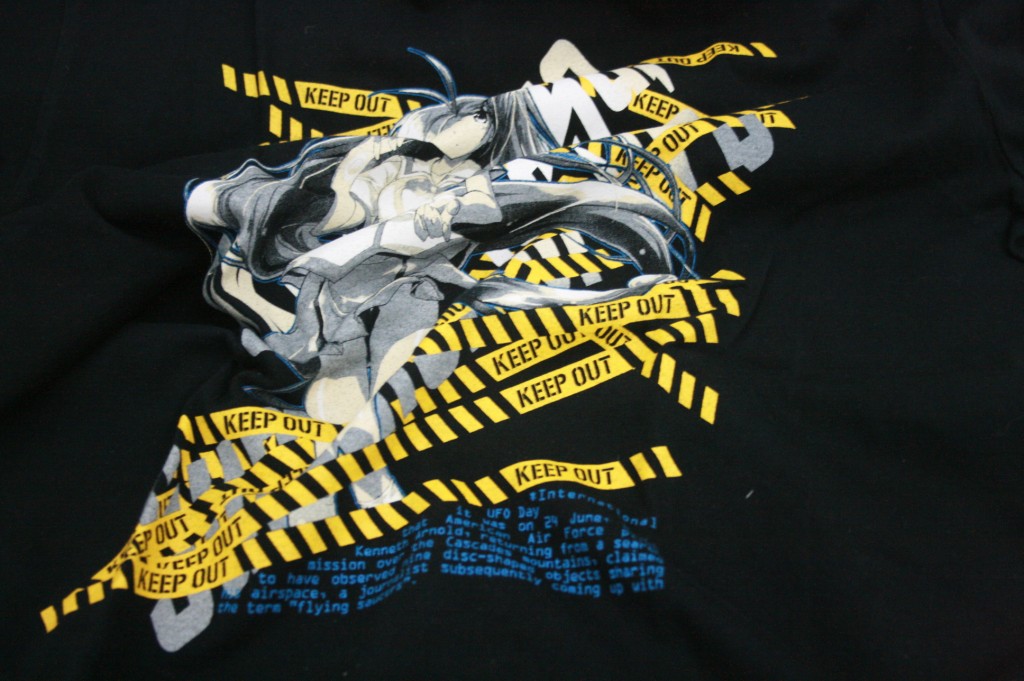 More details on the T-shirt. The printing is very nice. It is not too thick for screen printing, and it is very flexible so it can be folded or squished around. I haven't washed this too much, because being one of my favourite shirts, this T-shirt did not get worn too much. But looking at the print durability of some other shirts, I have confidence that the shirt will last for long.
(T-shirt store page: イリヤの空、UFOの夏 イリヤ Tシャツ)